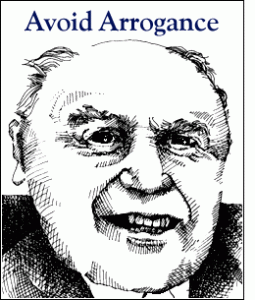 Have you ever tried to talk to people who are extremely arrogant about their worldview?  It's not a pleasant experience!
I don't have a problem with people who are confident in who they are and what they believe.  I do have a problem with people who are arrogant and unwilling to believe anyone else's view is legitimate.
In family businesses arrogance can be a real problem.  When people are arrogant they are not only close minded but they also tend to take the oxygen out of the room as other people try to share their opinions.
The key to family business harmony is open communication about the business and the family.  The family leaders need to understand the importance of creating an environment in which everyone's views are valued and heard.
In our programs, we tend to be the objective outside party who gets to tell "Mr. know it all" to shut up and listen to others.  Better yet, when we teach the arrogant people to display a little bit of humility and open-mindedness we can get them to start to share their views and opinions in a way that people want to receive.
I often think people who are arrogant are also ironically a bit insecure.  It's almost like they have positioned themselves in the family as the top dog and don't want to see others in the family grow in their confidence and identity in the family community.
What families need to realize is that it's beneficial for the family to empower everyone to grow in their confidence and ability.  Unfortunately arrogant people oftentimes seem to have a win-lose mindset.
When people are shut down they can become disenfranchised and cause significant fractures in the family foundation.
The question is how do you approach someone who is arrogant?  In coaching we use a technique called asking someone to "try something on".  We'll literally ask the person; would you be willing to try something on?  Then we'll follow it up with another question.  Could you see that you come across as arrogant sometimes?  It's always interesting to watch their response.
If they say yes I ask them; do you want to come across as arrogant?  They almost always say no.  Then I'll ask a follow-up question; what do you think you can do to come across as less arrogant?  Another question I might ask them is: what do you think coming across as arrogant is doing for the rest of the family?
The key to building stronger relationships and open dialogue is honesty.  Many times the arrogant person will laugh at themselves a little bit and with a new sense of self-awareness make an effort to be less strong minded and arrogant.
I think arrogance is something that can sneak up on you over time.  It's important for the other family members to create the right atmosphere to have this conversation.  You want to thank people for being open to the dialogue and encourage them to work harder at being more humble in their interaction with others in the family.
Arrogance won't go away overnight but with consistent courage and honesty, family members can develop new mindsets and new skills to create a more open and inviting space for conversations and mutual understanding and respect.