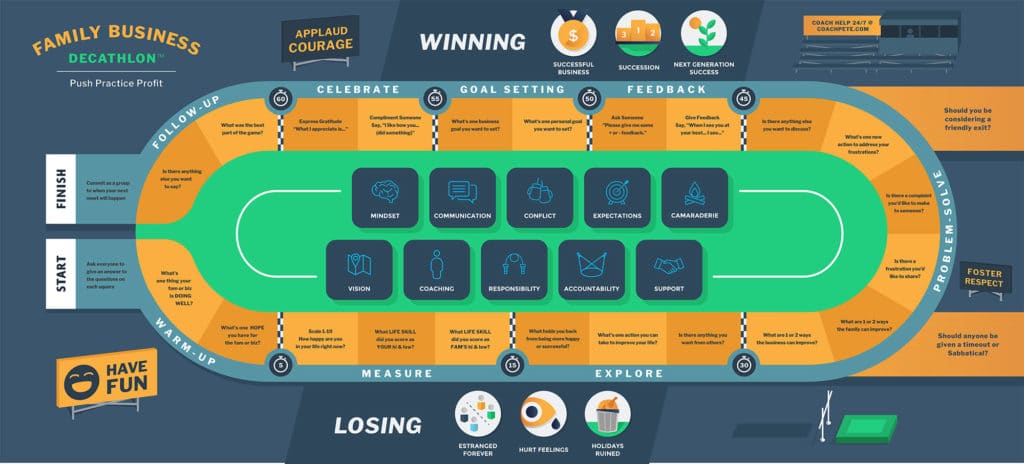 For 20 years, I've been partnering with family leaders who want to find a method of engaging their family in meaningful dialogue to grow and get stronger as a business team and family. They are looking for methods which can provide a long-term sustainable business.
I've found the sports analogy can help people get in the right mindset. Even the best teams know they must keep practicing certain skills to perform at a high level.
Business is a competitive endeavor. I've found very few family businesses that are immune to competitive threats in their market.
Coaching is a form of leadership that creates a partnershipfor accelerating player development and performance. I help you learn how to utilize coaching to engage and strengthen your team. We do this in a number of ways:
I will "coach the coach" – meaning I will teach you or others how to be a coach within your team
I will coach your team in person or via video conference and provide valuable, objective outside perspective you may be nervous to deliver
I will provide a professional family business coach in your local market to be in the room with you
Why do you need this family business training system?
You'll get a stronger, more productive and enthusiastic team by having meaningful dialogue that leads to new individual and business goals. You can use the tool as I've designed it, or use it as a guide and customize it to fit what your family needs. I can help you make that determination.
Now you and your family can use my Family Business Decathlon Training System to help you explore important topics in a proven way that will bring your team together. The Decathlon gives you a track to have family/team meetings that stay on time and on track to produce meaningful results.
The Decathlon focuses on 10 fundamental skills I've found in the most successful family business teams. This process enables you and your team to measure and strengthen the 10 skills:
Mindset – Does everyone have a confident winning mindset and how can they develop that?
Vision – Is there a unified vision that everyone is excited about working hard to achieve?
Communication – How well does the family communicate with all stakeholders?
Coaching – Does the team know how to coach and be coached for better results?
Conflict – How well does the family handle conflict or disputes?
Responsibility – Does everyone want to find a way to their results and happiness?
Expectations – How well has the family defined what's expected from everyone for success?
Accountability – How well does the family do at holding each other accountable for results?
Camaraderie – Does the family know how to enjoy each other even with all their differences?
Support – How can you learn how to support one another as you pursue a great life together?
Here's what you'll get with the system:
A proven "family tested" process to have meaningful dialogue to create a more focused, enthusiastic team
Confidence your family team can make progress
Tangible "scores" to measure your individual and team progress
Team handbook to set the stage and guide you and your team to handle family business disputes, leadership challenges, professionalism and more
Coaching support via text, email, phone or Skype with Coach Pete when your team stumbles
Learn how to manage family business disputes, establish trust, enable better communication and more with our proven training system made for family-run organizations.
---
Still not quite sure if these tools are right for you and your family? Here are a few options for you:
You can download a free copy of the Family Business Decathlon Scorecard and measure how you and your family are performing!
You can also experience my coaching this week. Let's get on a call and have a confidential conversation about your issues, challenges and concerns with a Sounding Board Session with me.
Ready to get the full benefits of the Family Business Decathlon?  It's part of my Family Business Coaching System, where I offer multiple consulting packages along with the proven video trainings, tools and support to help you and your family business succeed.