Get Our Family Business and Succession Planning Playbook with

20 Step-by-Step Exercises + 10 Articles to Keep Your Team Strong & Successful!

Why do certain teams win year after year? They not only have great players, they have great coaches and a system for practicing certain skills year after year!

The Family Business Playbook is designed to allow you to keep your team on the winning track and start where your family needs to begin. All of our exercises have been "family-tested" with family owned businesses over the past 20 years.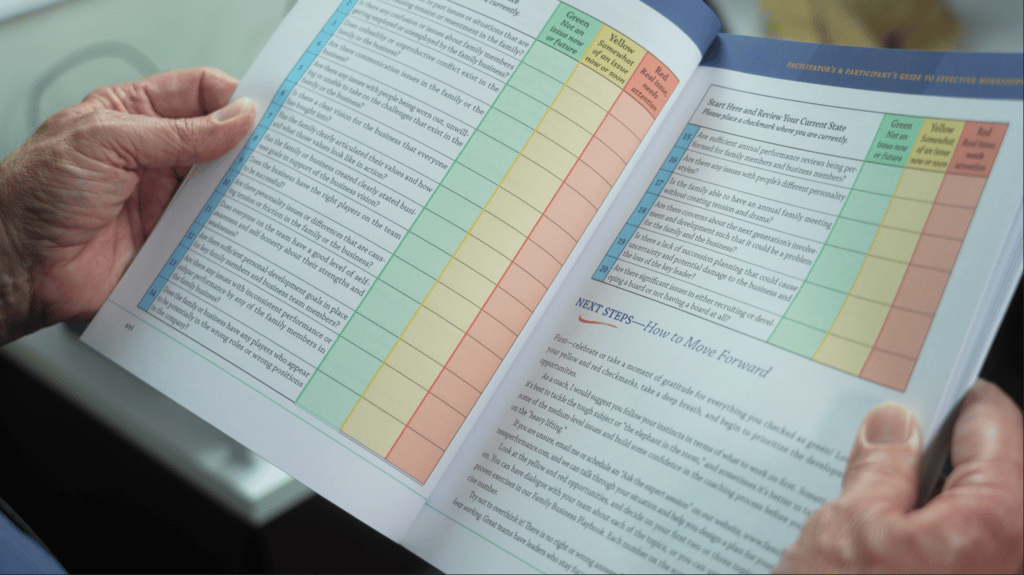 You'll learn how get your team into a "coaching mindset" and why coaching is a great way to get the family engaged in new and productive conversations. The playbook gives you a step-by-step approach for how to explore and move forward on:
Communication Skills
Succession Planning
Dealing with Conflict and Personality Types
Goal Setting & Performance Management
Board of Directors & Family Meetings
Developing Next-Generation – Pre-Employment Policy
Many more – see Table of Contents above
Plus 10 "must-read articles" that will educate your family on why winning in the family business is such a long shot. Strong family leaders realize education and skill building is critical to long-term success.
When you purchase the Family Business Playbook you will receive the following additional resources:
90 days of free email support to answer any questions and help you get the most out of the playbook
Free access to our Family Business Fundamentals Video Course (5 videos) you can share with your whole family
Free 30 minute planning session with one of our certified Family Business Coaches to map out your plan for success
If you'd like to get a feel for the my Family Business Playbook – it's featured in this short video