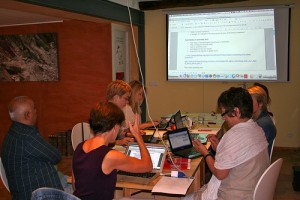 We recently completed another Fundamentals of Family Business Success program with a family group…it's so great to see families expand their business tool kit and have some real conversations about the family dynamics that can destroy a good business.
As the coach, I provide real-time, live coaching to teach the family how to talk straight with each other.
Let me know if you want to talk to the most recent family about what they got out of the program or if we can help you and your family grow some new muscle in this interactive and engaging coaching program.
Enjoy this week's bracket of family business articles.
To whom will you pass your legacy?
By Patrick Jinks
Investment News
http://goo.gl/khvByq
This is a useful article explaining four options for creating a succession plan for your family business as well as the benefits and drawbacks of each.
Lessons learned from four North Jersey businesses on working with family
By Melanie Anzidei
NorthJersey.com
http://goo.gl/WsyM0g
Four award-winning family businesses reveal their greatest challenge and insights about running a successful family business.
How to manage conflict in family business
By David Harland
Business Spectator
http://goo.gl/w2JvzY
"Rodney E. Evans, a professor at the Institute for Enterprise in Family Business, once remarked that "family businesses are fertile fields for conflict." This article gives solid advice on how to avoid the pitfalls.
Family business marketing strategies—get the best bang for your buck
By Kelly Borth
ColumbusCEO.com
http://goo.gl/rYA5DS
How do you market a family business? Make sure you are spending your marketing dollars where you will get the best return on investment.