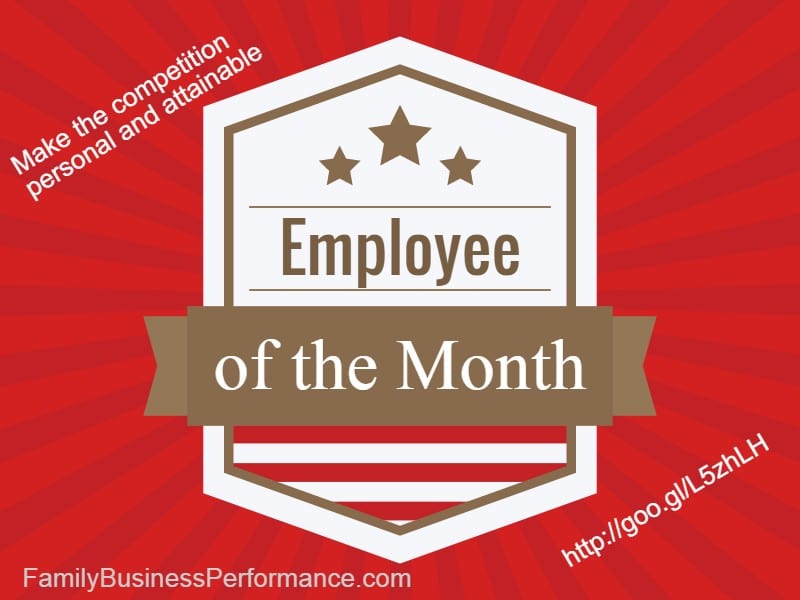 How do you make your family business environment conducive to team building? In the past this was often overlooked in family business because, well it's "just family" right? When it was deemed important enough to gain the attention of management, it was usually done with merit pay raises, employee of the month awards and other performance based incentives and gifts. Many family businesses that are interested in team building today are finding that these approaches just don't work like they expected and the family is not interested.
For example, if Cousin John excels and is routinely named "Employee of the Month" you may find fewer and fewer family members working as hard. Aunt Sue may think she doesn't really stand a chance and feel like it is not worth the effort. The end result is less output from the majority of your team and your 'Employee of the Month' can't make up the difference no matter how hard they work.
Merit based awards aren't all bad but family leaders should work to make the merit system based on improved personal performance.  You can reward Cousin John personally without making it something that is a family celebration. This may be as simple as a brief "job well done" lunch meeting or an afternoon on the golf course.
There may be a time and place for a family high five, but individual gifts of appreciation may be given as the family leader sees improvement. This allows each family member to understand they are valued by their patriarch/matriarch and are making a contribution that is recognized.
The only competition a family member should face is themselves. As the family leader, your role is to help them set and achieve certain goals that make them a more valued member of the family business team and improve the overall performance of the family business.  You should look for moments when you can honestly compliment your family members.
When your family team members understand they are challenging themselves they will often rise to a personal challenge in a much greater way than if they feel they are competing with everyone else. The later concept breeds discontent and a sense of apathy among the team while the former works to ensure everyone improves and contributes to the businesses success. It also lets your family know you are paying attention and that their work is important to you.
If you've been modeling your family team approach after company family-wide competition you will likely find it is only effective with a minority of your team. When you work to make the competition personal and attainable everybody wins.