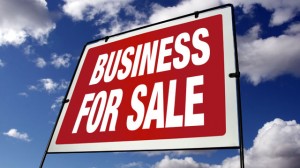 As a family business coach and family business consultant, it is my job to provide courageous, objective feedback.  When talking about family business succession one road the family needs to consider is selling the business.
Most families have difficulty discussing selling the business for a variety of reasons:
the business becomes like the "favorite son or daughter" in the family that no one wants to talk about ending their life
employees of the business are like family members and no one wants to think about negatively impacting their lives after years of dedicated service
the family sees the business as an important part of their identity in the community
the family sees the business as an ongoing source of financial security and stability for the family
While all of those are valid reasons to not want to sell the family business although there are also a host of reasons why a family should seriously consider selling.
A business, like a person, has a lifecycle – a beginning, a middle and an end
In some cases when sold the family businesses employees are provided greater benefits and long-term financial and management stability
In many cases next generation family members are not either properly prepared or sufficiently talented to run a larger more sophisticated business in an ever increasingly competitive market
a businesses like any other assets value will rise and fall over time – smart families will exit when the value is at its peak
I love seeing family businesses survive through multi-generations.  It's one of the greatest joys of my profession to help families make that happen.  At the same time, it's extremely painful to watch families try to hold on to a dream of family business continuity when the right factors of people and timing are not in place.
I experienced this in my own family.  Our ninety-year-old family business was a great source of pride for our family and in the community.  We reached a point where the best decision for the family, the business and its employees was to sell to a larger successful company who had the resources and talent to take the business to the next level.
While it was incredibly difficult to say goodbye to Walsh Bros. Office Environments, it is with great pride to know the business successfully transitioned to become a part of Target Commercial Interiors, one of the leaders in the office furniture industry.
There is no failure in selling the family business unless it happens because of poor planning or misguided decision-making.  The family needs to step back and take an objective view of the overall situation and consider all of its options.  It's a decision that needs time and attention and outside objective resources to sort out.
Whichever road you and your family takes, I hope you'll take it with a thoughtful, deliberate and courageous approach.