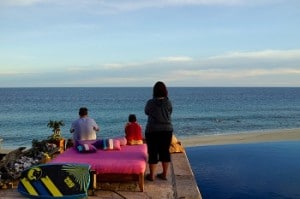 At the end of last weekend's family business retreat most of the 40 and 50 year olds were surprisingly blown away with how much the 15 to 25-year-old crowd spoke up and participated. The difference in the amount of participation was stark compared even to last year's retreat.
What we all concluded was that the younger participants were becoming familiar with the whole family retreat process.  For this family it was their third annual retreat.  In the first retreat we had to coax every word out of them.  At last year's retreat there was a little more progress.  This year it was amazing to see the amount of confidence and outspoken ideas that came from the younger generation!
We always knew they had lots of ideas but the challenge was trying to figure out how to empower them to have the confidence and presence to share their ideas in front of their aunts and uncles.  The other challenge, that we're still working on by the way, is to teach the Aunts and Uncles how to listen in a way that encourages rather than shuts down more talking from the next generation.
The important thing for a family to learn how to do is to be able to listen with an open mind and an open heart.  It wasn't really important whether last weekend's ideas were all on target and actionable.  What was important was the next generation feeling valued and appreciated for who they are and each of their unique strengths they bring to the family.
We encourage every family to view the annual family business retreat like spring training for baseball players.  It's all about working on the fundamentals, becoming a team and learning to win together. In each successive event team members become more familiar with the process and trusting in the true spirit of the retreat.
Many families appreciate the help of an outside advisor but it's not always necessary for every family.  What is necessary for every family is to make a commitment to help the next generation become stronger and more confident as well as more skilled at articulating their worldview.
We offer a free video that actually gives you the recipe for holding your own family business retreat.

One of the most rewarding parts of my work is getting to see families come together in their confidence and teamwork.  I'm an eternal optimist who wants to help rescue those families that are either suffering from or stressed out about potential family dynamics that could cause harm to the family and the business.
Families that get their families together on a regular basis to practice and play together have a much greater chance to beat the family business odds! Good luck and play to your team's potential!