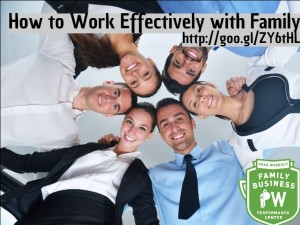 Even in a family, many people have an uncle, aunt or cousin that he or she does not quite see eye to eye with every day. This can lead to conflicts in family business but there are ways around these sticky situations. You can work effectively with family members with these tips and a little practice.
Everyone has a Job
Perhaps more important in a family business than a non-family business, is a well defined set of job descriptions and duties. These job descriptions should be in writing and available to all members of the family. With these duties clearly stated, you have facts to support your position in a family business conflict. It is important that everyone know other family members job descriptions as well.  It is easier to resolve conflicts and get along when all family members know their boundaries.
Set Boundaries
The next step for managing relationships in your family business is to establish open lines of communication regarding boundaries. If you know your duties and responsibilities you will be able to set firm boundaries. This will come in handy when there is a conflict regarding a family member's work. Be assertive and polite when setting boundaries in the business.
Encourage Teamwork
Leaders and role models of family businesses act as team players. When a family member sees you as a member of their team, instead of an opponent, family business conflict will be lessened and you will see cooperation double. It only takes one person to initiate teamwork. As the family business manager, this person should be you. The rest of the family are more than likely to follow suit.
It's All in the Attitude
You should always strive to have a positive attitude. We all have bad days but don't let that ruin the atmosphere of your family business. Take actionable steps to rectify conflicts. This is half the battle. It will take effort but being cheerful in the work place is contagious.
ograms/" target="_blank">workshop for your family.